SUMMARY
CALEM's Steering Committee members
INIMuslim's AIM
Mission
Inclusivity and self-definition
Operational goals
Universal Ethics
Publications
Sponsors & donors

CALEM's STEERING COMMITTEE MEMBERS

To learn more about our CALEM Cabinet and informal NGO Confederation latest news, please consult our press release about it.

INIMuslim | 2011-2012 Aim


INIMuslim is an informal network, opened to every citizen of the world inspired by a good will, without any discrimination regarding their personal convictions, ethnical background, serological status, sex, sexual orientation or gender identity.
This informal network is built on a collaborative initiative of Organizations' Associations' representatives, selected experts worldwide (see non exhaustive list and thanks below) and volunteers, working internationally for the inclusivity of individuals, that belongs de facto to what we call today a "sexual minority" (LBTQIA*), and that are Muslims or from a Muslim background. INMuslim sustains their struggle to defend their human rights and dignity, fighting both "Homophobia", "Islamophobia" and every other discrimination such as racism, anti-Semitism, misogyny, lesbophobia, biphobia, transphobia, serophobia**, etc.
Through INIMuslim, organizations and individuals can exchange information about how to prepare conferences or seminars, lead or create inclusive Muslim organizations***, increase LGBT Muslim's visibility by editing publications and/or built a blog, a website; deconstruct prejudices and misbelieves, share ideas and experiences, exchange skills, develop a united voice with humility and solidarity - away from ego or power inter-individual conflicts - and develop new tools, strategies and advocacy in total transparency.
Our position is at the avant-garde of an Islamic reform and the mutations of the relationship to Islam; an intellectually passionate position and risky at the same time. There is no unique, simple answer to the issue of the reconciliation of cultural heritage and/or faith, gender and sexuality. Thus, we have to help each other respecting true shura - collegiality - ; respecting each other point of view and self-definition, in a philanthropic and naive way, in solidarity with endangered social groups or minorities, nonetheless independently, away from partisan politics.
*Lesbian, gay, bisexual, transgender, queer, intersexual, asexual; but also Men having Sex with Men, Women having Sex with Women that happened to be discriminated on the basis of their gender and/or sexual orientation.
**Against individuals infected or affected by sexual transmitted deseases such as HIV/AIDS.
***Inclusive, progressive, queer LGBT Muslims need your help to be visible and gather to create human right, advocacy or convivial organizations; we are here to advice and/or exchange information about the best way to sustain their empowerment and enhance their expertise and visibility as a group or/and as individuals, through internet websites or blogs, associations, publications, conferences, etc.
INIMuslim | Mission
INIMuslim * aim is to provide helpful and supported basis to address the issue of Islam & sexual diversity, and assists Muslims to reconcile Islam with their sexuality or gender orientation, to peacefully strive together toward common goals of interest for our network that aspires to the realization of an inclusive Islam.
Our network helped so far inclusive, progressive Muslim individuals and organizations to strengthen up their inner dynamic in France, South Africa, Belgium, Egypt. Today, it is spreading its energies through Europe, Middle-East, Africa, North and South America.
Since its elaboration, this network already realized several projetcs:


- conferences, seminars and colloques of CALEM in 2011, and 2012.
- publications of the Green Books in 2012, translated in French, English, Spanish and Dutch.

- sustaining our sister Nasreen Amina (in collaboration with our sister organization MPV) for her publication on islamic feminisme at the May 2012 conference in Argentina.
- financial support for three lesbians from a Muslim backhground to attend the international Muslim women's conference (in September 2010, while the network was still not formaly named).
- sessions of brainstorming and affiliations trainings organized during 2012 (...).
- helping refugees, fleeing away from their country because of despotism and homophobia, to find asylum in European countries.
- inclusive travels and spiritual quests in Middle-East and Holy Land (travel blog, video documentaries...).
More information about this network, please write to us: islam.inclusive.2012@gmail.com
* International Network of Inclusive Muslims; in Arabic INI MUSLIM means "I am Muslim". A name found by the international coordinator of CALEM after salat Tarawih during Ramadhan 2011.
Let us be reminded that our beloved Creator Allah SWT states in the Quran in numerous places that no singular identity, nor social category, shall be normalized above others; no identity shall be imposed as "normal" on any one of us, especially not on our transgender brothers and sisters.
Allah SWT says in the Quran: "O mankind! Lo! We have created you male and female, and have made nations and tribes that ye may know one another. Lo! The noblest of you, in the sight of Allah, is the best in conduct. Lo! Allah is Knower, Aware" *.
Thus, we shall promote Allah consciousness in respect of each individual's personal self-definition.
* Quran: 49.13
INIMuslim | operational GOALS
INIMuslim shall work towards the following operational goals and objectives, as a network that seeks to include and create safe spaces for each and every Muslim around the world, promoting and advancing human rights and equality particularly for inclusive Muslims:
1/ To develop an inclusive structure, flexible, supportive and decentralized. That structure shall enable organizations and individuals, pursuing common interests in human rights and equality, to work together.
2/ To sustain existing – or help to create – organizations, who are interested in INIMuslim's issues, in order to improve their capacity building.
3/ To provide a variety of means which include but not limited to: exchanging information, training & capacity building, conducting researches and studies, coordinating actions, conferences, releasing joint statements, newsletters and publications, organizing cultural and spiritual journeys to rediscover our common heritage, developing common agendas & strategies, and joining national and international advocacy efforts.
4/ To raise and shed a light in the issue of Islam and sexual or gender diversity, to develop a collective voice on important inclusive Muslims' issues worldwide, and to provide a supportive and understanding environment for LGBTQIA Muslims who seek to reconcile their sexual orientation or gender identity with Islam.
5/ To support Muslims who identify themselves as lesbian, gay, bisexual, transgender, queer, and intersex and those who are questioning their sexual orientation or gender identity; to promote spirituality among LGBTQI Muslims.
6/ To empower inclusive Muslims by creating safe spaces to share individual experiences and by providing information and educational resources, and to advocate on behalf of LGBTQI Muslims in national and international forums
7/ To encourage and initiate dialogue with Muslim communities & scholars worldwide around the issue of Islam and sexual or gender diversity.
No one shall be forced to meditate or relax of course. Besides, like the MPV's inclusive Unity mosques in North America, our inclusive prayer spaces is a place of healing for everyone - for those who identify as Muslim, regardless of sect or tariqa. We also welcome those who do not identify as Muslim but need a space for healing, and those who are family, spouses/partners, friends, seekers and allies. We understand that women and men are equal agents of God in all aspects of ritual practice, regardless of their sexual orientation, gender identity or expression, age, race, class, dis/ability, HIV status, language, or any other grounds. In setting up our prayer space, we strive to create a caring environment in which no one is segregated or excluded. This means that a man or a woman may lead prayers. Congregants are seated together and pray together as one community. Of course, individual men and women can choose to stand/sit to one side or the other if they prefer. Whether you pray regularly or not, we invite you to this open and welcoming space.
CALEM
All our publications all totaly free of any charge since 2010 (documents, videos etc.).
OTHER RESSOURCES
MOI (Homosexual Muslim in Italy)
International congress on Islamic Feminism (Spain)
MPV publications (USA)
WEBISLAM (Spain)
INCLUSIVE PROGRESSIVE MOSQUE
First inclusive, progressive Mosque in Europe (Jumu'a prayers and Arabic, Quranic exegesis classes - please consult our French MPF website, click here)
BACK TOP PAGE
Co-editor of the PAI (ILGA AFRICA) constitution at the 2014 conference.
CALEM 2012 main colloquium was sustained by the European Council
CALEM is founder member of the INIMuslim networking program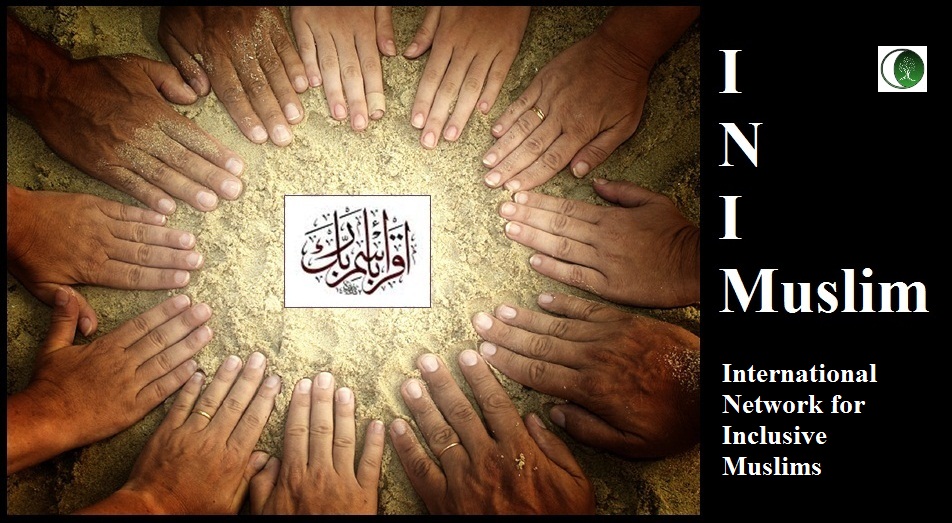 CALEM received the 2012 Pierre Guénin price* against homophobia.
*A price given by SOS homophobia
CALEM representative is founder member of the GIN-SOGI interfaith international LGBT network (thanks to the sponsors sustaining GIN-SOGI)
International Network for Inclusive Muslims
Organizations representatives, experts and volunteers, working
against every discrimination, and towards a truly inclusive islam*

* not all these individuals are Muslims of course; this informal network is administrated by CALEM




INIMuslim NETWORKING program | Thanks to the
experts working together with us towards inclusivity:



ANTHROPOLOGY, NEW ISLAMIC
THEOLOGIES & ISLAMIC FEMINISM


She inspired and participated to the edition of the Green Book 2012. Wadud's research specialities include gender and Qur'anic studies. After publishing her first book, she spoke at universities, grass roots level, government and non-government forums at various gatherings throughout the United States, the Middle East, Southeast Asia, Africa and Europe. In 1992 Wadud accepted a position as Professor of Religion and Philosophy at Virginia Commonwealth University, from where she retired as of 2008. In 2007 she received the Danish Democracy Prize, and in 2008 she gave the keynote address "Islam, Justice, and Gender" at … (Learn more, click here).








MUSLIM FOR PROGRESSIVE VALUES, ARTIST AND PRODUCER



She is co-founder and President of Muslims for Progressive Values (MPV), a 501 (c) (3) founded in 2007. In the short years since its inception, Ani presided over MPV's expansion to include chapters and affiliates in Los Angeles, New York, Washington DC, Atlanta, Philadelphia, as well as Ottawa and Toronto, Canada. She organized numerous interfaith arts and music festivals, participated in many interfaith dialogues and is a strong supporter of LGBTQ rights. One of her brainchilds is Literary Dhikr – a project that counters radical Islam online and most recently MPV's first book, an anthology titled 'Progressive Muslim Identities – Personal Stories from the US and Canada'.







Ani is a singer / songwriter / producer and the first woman to release an English Islamic pop album in the US entitled 'Ummah Wake Up' followed by 'One'. Ani performs wedding services for mixed faith and gay couples. In 2006 she was named a Muslim Leader of Tomorrow by the American Society for Muslim Advancement.




back top page




Abdennur Prado

PROGRESSIVE ISLAM,
FEMINISM & MASCULINITIES

Former president of Junta islamica catalan (Spanish Islamic council) and President of the International Congress on Islamic Feminism - http://feminismeislamic.org/cast/. Defensor de los derechos civiles de los musulmanes en España y comprometido en el diálogo interreligioso. Basada en un retorno a los principios de la revelación coránica, su obra se sitúa en la línea de la teología islámica de la liberación. Es autor de los libros 'El islam como anarquismo místico', 'El lenguaje político del Corán', 'El retorn de l'islam a Catalunya', 'El islam anterior al Islam' y 'El islam en democracia', y de numerosos artículos publicados en diarios y revistas. Ha sido director de Webislam.com, de la cual es redactor.













back top page




Imam Hashim Jansen

IMAM, PHILOSOPHER $ THEOLOGIAN

Imam Hashim Jansen was born in Rotterdam in a Roman Catholic family. As a Catholic boy, he went to the seminary, where his interest in the priesthood was awakened. After his ordination as a priest in the diocese of Roermond in 1997 he began to study theology at the University of Leiden.

NGO: During that period, he was seized by Islam. After his studies in Leiden, he went to Damascus, where he studied at the Abu Nur University for five years of Arabic Language and Literature, Interpretation of the Qur'an, History of Islam and Islamic studies. He also studied there in FIQH, the basic principles and practices of Islam. He was inspired by Sufism, a spiritual branch of Islam. Hashim Jansen has worked as a pastor in Rotterdam and The Hague. He is one of the two inclusive imams in Europe and leader of the Haardvuur Avond organization in Amsterdam.

CONTACT: https://www.facebook.com/haardvuuravond


back top page


Imam Yusuf Jose De Silva

MTHEOLOGIAN $ PROFESSIONAL COUNSELOR

(Brazil).

Theology at Faculdade Transamericana de Teologia. Mastership in Science of Religion - Same institution. Drammaturgy at Universidade stacio de Sá, Rio de Janeiro, Brazil. Professional counsellor by Seminario teologico Batista. Elaboration of projects by UES and INEP. Professinal Experiences: teacher of Foreigners Lenguages, HRDefenders, Projects with Children of Street, STDAids, International and National Coferencist.

NGO: The first gay imam of South America, leader of MPV Brazil (Musulmanos Progressistas Do Brazil).

CONTACT: +5521 98461 6205 (Cell)


back top page





Randa Lamri


Transfeminist activist

(Algeria / Sweden)



Randa Lamri transfeministe activist. Founder of Abu Nawas Algreria, former director of the HELEM social center in Beirut, founder member of the first Middle-Eastern trans group. She published her biography in 2010 thanks to her collaboration with Hazem Saghiye. She currently lives in Sweden where she is member of the RFSL board, also elected for the green party "vänsterpartiet" (four years mandate). Founder member with four other activists of the francophone platform for LGBT rights.

CONTACT: randa.lamri@gmail.com






MEDIA & INCLUSIVE
ISLAM IN LATIN AMERICA

(& philanthropic translation - Spanish, English, French - namely for the CALEM's Green Books 2011 & 2012).

Nasreen Amina ( Vanessa Rivera de la Fuente) is a citizen journalist and writer, culture columnist and social critic, Pioneer of Islamic Feminism in Latin America. She is an enthusiastic speaker and advocate on issues of gender and women rights. who has led volunteer programs for rural communities in the Peruvian highlands. Through her human rights work she believes strongly in the power of words to change the world. With some more progressive brothers and sisters they are forming a group of progressive Muslims in Latin America, which obviously is open and includes LGBT brothers and sisters...








... They have found that the cultural roots of Latin America, deeply rooted in discrimination, non-acceptance of difference, misogyny and patriarchy, are the ideal ground for dogmatism and specifically Wahhabism.

Therefore, together with a group still small, they decided to develop a collective for the promotion of progressive ideas in Islam and to generate a network of support and mutual assistance.

nasreenamina.blogspot.com






ISLAM, GENDER STUDIES
& MUSLIM LESBOPHOBIA

Activist and thinker of the contemporary Islamic Feminism, was chosen by her country as one of the 100 most influential people in Latin America (2010). For nearly 20 years, Social Worker, having spent most of her work to the struggle for women's rights. Is a Research and Executive Committee Member of the Institute of Euro-Mediterranean Studies at the Universidad Complutense de Madrid, being the head of the Department of Maghreb and the Middle East. Currently chairs of the Union of Muslim Women in Spain, and co-director of the International Congress on Islamic Feminism. She is Director of Social and Intercultural Consulting Tower of Babel, with gender advisor for the government and various organizations.


back top page










REGIONAL NETWORK AGAINST HOMOPHOBIA


Nevin is the former representative of KAOS GL - Turkish LGBT organization, Ankara - leader of the RNAH (Regional Network Against Homophobia) -; editor-in-chief of Kaos GL Magazine. She prefaced the Green Book in 2012 and she is offering us a unique perspective on their engagement against homophobia: "Why Regional? Creating the Regional Network Against Homophobia aims is to provide a solidarity shelter for all the individuals suffering from hate based on homophobia, transphobia and sexism in and around Turkey. We live in a region popular for its border problems and religious clashes; however when it comes to different kinds of hate forms, there seems to be no borders or clashes. We as the LGBTs in Georgia, Armenia, Azerbaijan, Palestine, Iran, Iraq, Tunisia, Algeria, Israel, Serbia, Lebanon, Bosnia Herzegovina, Croatia, Greece, Turkey, Macedonia, Montenegro and Albania...


...We do not stand only against heterosexism but also against nationalism and militarism that go hand in hand with it. Our regional network aims to create a ground to stand up for each other as we share similar political patterns and break mental and physical borders that separate us. We want to live with each other; we want to live for each other."


back top page



SELF-DEFINITION, TRANSGENDER

& INTERSEXUAL IDENTITIES

Azzah is originally from France. She grew up in Lacoste (Southern France) and she now lives and works between Amsterdam and New-York. She deals to help her transsexual Muslim sisters and brothers living in the Netherlands. Five years ago, Azzah undergo sex change surgery in OLVG Hospital, Amsterdam. SHe was handled by a Muslim surgeon, R.B. Karim, and an assistant Iranian descent. "I am allowed to wear headscarves in the operating room. After the surgery, doctors Karim pinned a Quran in the palm of my hand. I deliberately chose a Muslim surgeon. It feels more comfortable entrusting my body and post-operative care to people of faith"... (Learn more about her story here).



back top page
Marwan Bensaid



HOMOPHOBIA & MALE HOMOSEXUALITY IN THE ARAB WORLD


Marwan is Marwan is founder of an LGBT Moroccan organization and editor in chief of the gay magazine ASWAT ("the Voices"). Ihe is offering us a unique point of view on a civilization's under going mutations :"This is so that among the third world countries, especially in the Arab-Muslim world, the subject of homosexuality continues to be a taboo which we do not talk about, because some believe that talking about topics related to sexuality in general - and homosexuality in particular - is contrary to decency; that the issue of homosexuality is set and its legal status, under Islamic law, is obvious. They base this on the history of the people of Lot, which is recounted in the holy Qur'an. Besides other voices, in order to deny the existence of such practices within the society, stressed the fact that homosexuality is a Western lifestyle, which is not compatible with Arab societies...

To date Arab LGBT community is still far behind, and we find ourselves as Arab LGBTs facing a battle against ignorance, first, before even we can fight homophobia, since the major part of the Moroccan people still see homosexuality as a deviance and contrary to human nature, striking against the wall all the research and studies showing otherwise..."

(Read more on the 2012 Grenn Book's preface, or on the Arabic page of CALEM website).


back top page



ARAB LGBT EMPOWERMENT

& FEMALE HOMOSEXUALITY

Samar Habib participated in 2012 to the edition of the Green Book. She received her doctorate from the University of Sydney, Australia. Her monograph Female Homosexuality in the Middle East: Histories and Representations was published by Routledge in 2007. Her critical translation of the Lebanese novel Ana Hiya Anti / I Am You by Elham Mansour was published in 2008. Islam and Homosexuality, a two-volume collection of essays, edited and introduced by Habib, has been published Pareger in December 2009. In addition to a number of published and forthcoming academic articles in EnterText and Nebula ; Habib has published a number of creative works including the novel A Tree Like Rain (Sydney: Nebula Press, 2005), the chapbook Islands in Space (Sydney: Nebula Press, 2008) and the novel Rughum & Najda (March 2012). she is now studiying the great work achieved by some LGBT arab LGBT organizations (she presneted her work with our representative, in Ankara and Istanbul in 2012 at the University Seminar).




back top page



GENDER, ISLAMIC &

NEAR EASTERN STUDIES.

Ph.D. in Near Eastern Studies, University of California, Berkeley; Matthew prefaced the Green Book in 2012, from his very particular, unique point of view. He is a member of the MPV association: Muslims for Progressive Values (MPV) is an inclusive community rooted in the traditional Qur'anic ideals of human dignity and social justice. They welcome all who are interested in discussing, promoting and working for the implementation of progressive values - human rights, freedom of expression, and separation of church and state - as well as inclusive and tolerant understandings of Islam… (Learn more here).


back top page
Emir Belatoui



HUMAN RIGHTS ACTIVIST,
& NGO LEADER.

Emir is Muslim

and

gay

and

fled

from Algeria

.

He has been leaving

now for more

than ten

years in the Netherlands

:

I came to the Netherlands for the freedom you can have here to be gay, but discovered that many Moroccan and Turkish youths led a double life," . "That's why I founded the Secret Garden – to reach these young people, bring them into contact with each other and to defend their interests. Secret Garden Foundation wants to remove the taboo of discussing gay, bisexuality and gender reassignment issues in society in general and within the Muslim community in particular. The target group of the Secret Garden is gay, bisexual, lesbian and transgender Muslims (LBHT'ers). "Freedom is inside you, and is not determined by where your family resides. It has largely to do with your own acceptance of homosexuality. Nobody jumps with joy when his child says, "Dad I'm gay." But ultimately, most parents want their child to be happy and not walk around with all kinds of psychological problems."...






... We have made materials that schools can use, such as the DVD "Hob Al Nisa" about lesbian and bisexual women. And a DVD about the safety of LGBT'ers in asylum seeker centers. We have also made brochures with portraits of refugees and other LGBT'ers, and we are now working on a new DVD, called "Fight to Be." This new DVD is about homosexuality in general and about the work that the Secret Garden has done in recent years to lift the taboo of homosexuality within immigrant communities. Our activities are well attended, and politically we have left our mark on Dutch society. We are well known, and I'm happy with that.



Stéphanie Nicot



AUTHOR, HUMAN RIGHTS &
TRANSGENDER FRENCH ACTIVISTS

Founder and president of ANT (Association National Transgender); with a degree in Modern Literature and Information-Communication, Stephanie Nicot has previously held various odd jobs (working interim, an official at the Ministry of Finance, Parliamentary attached) before teaching Letters and History at school and devote herself to literature. Stephanie, formerly Stephane, had sex reassignment surgery to become a woman but has refused to lodge documents, as required by French law, to also have her gender changed on the population register. Last year Stephanie Nicot wed her partner Elise in a town hall ceremony in Nancy in eastern France in what is said to be the first marriage of its kind in the country. There are between 40,000 and 50,000 transsexual and transgender people living in France, according to support groups. The French constitutional court in January upheld the country's gay marriage ban, saying it was in keeping with the constitution. The court made the ruling in response to a bid by a lesbian couple, who have four children, to marry after spending 10 years in a PACS, or civil union. Learn more about the ANT association here -

http://www.ant-france.eu/ta2-assos-nous.htm












back top page




Phyll Opoku-Gyimah



HUMAN RIGHTS ACTIVISTS, UK BLACK PRIDE





Co-founder and Executive Director of UK Black Pride, it is safe to say that Phyll Opoku-Gyimah is one of the leading lights behind the amazing celebration of Black LGBT communities that we enjoy today. Phyll has also been named in the Independent on the top 100 Pink list where she came in at number 64... A former volunteer for BLUK (Black Lesbians in the UK), Phyll uses her immense talents to support people within the Black LGBT community who either feel vulnerable or desperate to burst out of themselves and demonstrate pride in their ethnicity and sexuality. Phyll has worked tirelessly to bring together LGBT activists, artists, volunteers and supporters from within the LGBT community and beyond to support UK Black Pride and other such events. Phyll's voluntary endeavours led her to be nominated as Woman of the Year at the Black LGBT Community Awards 2007. Phyll is now the Head of Equality Health & Safety for PCS. Phyll's commitment to workplace equality and social justice has secured her a seat on the TUC LGBT Committee. Phyll is a strong, very family-orientated Ghanaian African woman.













back top page




Dan Littauer



HUMAN RIGHTS ACTIVISTS, JOURNALIST





Dan Littauer has had an extensive career, from teaching psychoanalysis and social science in several UK universities to writing for the Lonely Planet. Dan is the editor of Gay Middle East news website; GME is a LGBT Grassroots news from the Middle East. Dan also regularly writes for other LGBT publications. He also has contributed to programs on the BBC, Al-Jazeera and the occasional contribution to CNN and The Guardian.













back top page





Brother X. from Rainbow Sudan



UNIQUE HUMAN RIGHTS ACTIVISTS (identity kept secret for security reasons)





It is an Organization based in Khartoum we work underground conceding the fact that Lesbian, gay, bisexual, and transgender (LGBT) persons in Sudan face legal challenges not experienced by non-LGTQI residents. The judicial system is based on the Shari'a and according to Article 148, capital punishment applies should the offense be committed either by a man or a woman. For homosexual men, lashes are given for the first offence, with the death penalty following the third offence. 100 lashes are given to unmarried women who engage in homosexual acts, For lesbian women, stoning and thousands of lashes are the penalty for the first offence. Rainbow Sudan is a social, human rights organization which advocates for the acceptance, understanding and a safe environment for LGBTQI's to meet and discussed.






back top page




Brother S. from Burundi



UNIQUE HUMAN RIGHTS ACTIVISTS
( name kept secret for security reasons)




Humure

is a young

association

of

Burundian law

which

assigned

itself

the mission

to help make

better

the situation of minority

groups, especially

sexual minorities.





The first

organizational meeting

of

Humure

held

on 01 March

2009.

Humure in August 2013 invited imam Ludovic-Mohamed Zahed for a two days seminar with LGBT youth from Burundi, Congo, Rwanda (

see "publications 2013" reports here

).










back top page



Brother S. and sister M. from Algeria


UNIQUE HUMAN RIGHTS ACTIVISTS (identity kept secret for security reasons)





Across the world, May 17th is known as the International Day Against Homophobia and Transphobia. This day marks the anniversary of the removal of homosexuality from the list of mental illnesses by the World Health Organization (WHO). It was in 1990.

Since then, the LGBTQI community celebrates this day by glorifying their strong assets while remaining vigilant against homophobic and transphobic threats that continue to waylay.

Abu Nawas's activists take profit of this day to establish a finding - one of the worst - on the LGBT situation in Algeria. Indeed, the decision of the WHO - twenty-three years ago - doesn't prevent Algerian psychiatrists to treat homosexuality as a serious pathology. Our country is nevertheless a member of this global organization.

Recently Abu Nawas created a commission with itself to deal with Islam and homosexuality issues. They were part of the international CALEM retreat in Morocco, 2013 (see "publications 2013" reports here).








back top page



Kristi Pinderi



HUMAN RIGHTS ACTIVISTS, REPORTER




In 2010 he was part of the working group that drafted the first ever anti-discrimination legislation. This law made Albania one of the few countries in the South East Europe region to protect homosexual, transgender and other sexual minorities from discrimination. He is co-founder of The Alliance against Discrimination of LGBT and has been heavily involved with Pink Embassy, a leading LGBT organization supported by the international community in Albania. During the last couple of years, he has represented the LGBT Movement in Albania by participating in many TV debates on national television. He is one of the key organizers of events which will mark the International Day against Homophobia in 2012. In 2012 he filmed the first short documentary for LGBT underground life entitled "Hidden among us," scheduled to be aired on influential Top Channel TV later this year. Most recently, he announced the establishment of the organization Pro LGBT (United for LGBT Cause in Albania) and is serving as its Executive Director while continuing to write for Shekulli online.








back top page



Brother Y. from United Arab Emirates



HUMAN RIGHTS ACTIVISTS (identity kept secret for security reasons)




The group was founded in March 2011 to raise awareness, educate the public and allow open dialogue regarding the Universal Rights that belong to the GLBT community of the United Arab Emirates. GLBT Rights UAE is a non-governmental organization that strives to raise awareness about the issues, which face the GLBT community in the UAE. The ultimate mission of the group is to decriminalize Homosexuality, same sex relationships, or sexual activity between consenting individuals of the same sex and to abolish Article 354 of the Federal Penal Code and all other U.A.E. laws that discriminate against those persecuted for their natural, sexual orientation. The group further seeks to end all form of invasive treatment, Psychological and Medical procedures which has no scientific basis, and is at odd with the international community and all psychological associations around the world.











back top page




Marina Barreiro



HUMAN RIGHTS ACTIVISTS, MANAGER




Program Manager of the Human Rights Program of Sarajevo Open Centre. SOC was established in 2007 and ever since has been constantly working and increasing its scope of action from interreligious education and cultural programs to a human rights program, especially Lesbian Gay Bisexual Transexual rights, where currently we spend almost all our resources. She studied Political Sciences and International Relations in Spain and France. She has a postgraduate in Prevention and Management of International Conflicts and a Master Degree in International Relations and Diplomacy by the Diplomatic School of th Spanish Foreign Ministry. She worked for the Embassy of Spain to Bosnia-Herzegovina as Political Officer. She published articles about international conflicts and human rights reports in several scientific media. In Sarajevo Open Centre she is managing and defining the content of the Human Rights Program, as well as she has an active role in advocacy. Her mother tongue is Spanish, she is fluent in English and French and she is studying B&H languages.







back top page





Biljana Stankovic



HUMAN RIGHTS ACTIVISTS




Born in Novi Sad in 1974. She has a degree in Serbian language and literature from 1999. The same year she also graduated from the alternative studies "Mileva Maric Einstein" with the feminist theater FENS as her examination work. The collision of activism and art in her work has resulted in the creation of yet another feminist, and lesbian, theater group, ACT women. Her research in bodies, voices, moves and rhythm in the female and lesbian identity led way to her theater workshop "The rhythm within us". Since 1997 Biljana's activism was build trough feminist radical lesbian politics. Her activist choices are made in patriarchal, discriminative and nationalist country called Serbia. She is currently working as a coordinator in Novi Sad Lesbian Organization (NLO), giving education on coming-out and homophobia among other things. Biljana is a member of several feminist international and regional networks, started with a Balkan "Oral history" team. She lives in Novi Sad with her dog Lena and red bicycle.






back top page







CALEM's STEERING COMMITTEE MEMBER SINCE 2014

Born in Algeria in 1982, she is a teacher of philosophy specialized in political philosophy. She studied Political Sciences and Philosophy and graduated with a Bachelor of Philosophy in 2004. She also graduated from "Sciences po" Grenoble in 2005 and with the master of "Sciences Po" Paris in History and Political Thought in 2006.

NGO: She had an experience working in Damascus for the Tharwa project, the foundation of the Syrian human rights activist Ammar Abdulhammid, aiming to foster better relations between minorities & majorities in the broader Middle East and North Africa. She worked at that time on the issue of minorities and human rights in Algeria and Tunisia and also wrote a study about Algerian, Syrian public curricula in primary education. She is founder member, spokesperson of MPF.
















CALEM's STEERING COMMITTEE MEMBER SINCE 2014

Born in Morocco, graduated from Marrakesh Business School in Organization Management, He pursued his studies in France in Grenoble School of Management in Project and change Management and a master degree in International human resources management in Business and administration institute (IAE gustave Eiffel). He worked in diverse fields, Purchasing, human resources, and in international mobility department in big multinationals. He was also part of ARRI, an organization specialized in international geopolitics.

NGO: Engaged in MPF since its creation, Nassreddine has a humanitarian work background in Morocco where he participated in founding the first committee supporting the work of "Amnesty international" in Marrakesh, he was also member of SIFE "Students in free enterprise" which aimed to implement socio-economic sustainable projects. He worked in 2 NGOs within the framework of fundraising activities. Furthermore, He participated in many humanitarian and associative actions next to SOS Village for instance helping children to get School furniture. He is now dedicated to topics related to sexual, religious minorities, secular Islam and MPF activities.













HUMAN RIGHTS, WORLD DAY AGAINST TRANS. & HOMOPHOBIA

Louis-Georges Tin is the founder of the IDAHO -World Day against Homophobia and Transphobia. Born in 1974, he was the first to Martinique have integrated the prestigious Ecole Normale Superieure since Aimé Cesaire in 1938. Professor, Doctor of Letters, he taught at the University of Orleans and at the Ecole des Hautes Etudes en Sciences Sociales in Paris. Intellectual known and recognized, in 2004 he founded the World Day against Homophobia and Transphobia, celebrated annually in over 70 countries worldwide. He launched the campaign for a universal decriminalization of homosexuality, supported by several Nobel Prize, and this action led to the declaration of 18 December 2008 at the United Nations, which he brought to New York with Rama Yade - a historic first. Louis-Georges Tin is also the co-founder of CRAN, the Representative Council of Black Associations of France, which he is president and spokesman. His books have been translated into several languages, welcomed and rewarded in many countries. Its action has changed the situation in the struggle for Human Rights, in France and worldwide.




back top page

NGO LEADER, TRADE UNION MOVEMENT



Former president of Imaan UK, member of the black pride and the labour party, UK. He was one of the three international facilitators for the 2012 Paris CALEM grand colloquium. Learn more, click here; pav.akhtar@facebook.com






back top page

PhD., NGO LEADER



back top page
Sharon Cox Ludwig
LEADER of TRIANGLE PROJECT CAPE TOWN - MCC (LGBT CHRISTIAN CHURCH) South Africa



She is responsible for the Health and Support Services Program for Triangle Project, and also national coordinator for the MCC (the inclusive LGBT Metropolitan Community Church).

NGO: Triangle Project was one of the first organizations in the country to respond to the HIV and AIDS crisis, and assisted with prevention initiatives in gay bars and clubs. Today their activities includes undertaking assessments, assigning clients to therapists, managing and coordinating the medical clinics, support groups, client assistance program, the helpline, community counselors, crisis interventions, victim support and the home based care program. The program also undertakes training on issues around gender/sexuality/sexual orientation and works with schools/learners.

CONTACT: health@triangle.org.za


back top page
Sister A. from Pakistan
APPLIED TO BECOME MANAGER OF THE

ISIPHEPHELO

CENTER



She is from Pakistan where she was professionally part of a Multinational Group (Shipping / Logistics / Supply Chain / Freight Forwarding) since 2005.

NGO: Since childhood she was involved in many community based Social services as well as worked as a Volunteer with Make a Wish Foundation and Naz Male Health Association. She also worked as a Community based Substance Abuse Counselor, Team Leader of Community Emergency Response Team; She also organized Charitable EventS and Camps as Special Project Manager. She Certified with following: Certificate Base Session -- Prevention of Substance Abuse Counseling Workshop "Capacity Development"; Certificate Base Session -- Prevention of Substance Abuse Counseling Workshop "Discover Yourself"; Certificate {Short Course} – Event Management; Certificate Base Training - Basic Fire Fighter (beginnner) / Advance First Aider / Disaster Management. She should apply to be the manager of the center.


back top page
Abdallah Rawashda
LEADER OF QUEER 4 PALESTINE



He is a 26 Palestinian who flew away from Gaza to find asylum in Oslo. He played in the movie The invisible man about queer Palestinians and was one of the main guests at the CALEM 2012 main annual colloquium.

NGO: He is now head of the NGO called Quee4Palestine. He risked his life to defend, already in Gaza, LGBT Palestinians and thus was accused from both sides. He said to the President of the Association of queer Arabs leaving in Palestine: "you are an Arab Israeli, I came from the territories. I am caught between the Palestinians who want to kill me because I am gay and the Israelis who want to deport me because I'm Arab". Abdallah was accused, apparently primarily because he spoke of a certain social, violent reality that most Arab LGBT associations have decided not to treat as frontally, they say to avoid having to be ostracized by the majority of the rest of their society.


back top page


Brother H. from Pakistan
PSYCHOLOGIST & ACTIVIST



He is a psychologist, a human rights volunteer and activist, a feminist, a Punjabi guy of Kashmiri origins and a peacenik.

NGO: In 2009, a group of politically active queer men and women who aimed to make a difference and a space for Pakistani queers, an organization was formed by the name of OPPRSM (Organization for the Protection and Propagation of the Rights of Sexual Minorities) which was latter called The O-Pakistan. It is a volunteer based organization, initially aimed to provide a social support group for queers. Since its inception, I have been has been involved in all of the above mentioned events as an organizer and participant.


back top page
Brother X. from Egypt
SOCIAL RESEARCHER & ACTIVIST



Social researches – Supportive comic arts – training in LGBTI ( Gender – Sexuality , Islam and Homosexuality) - Supportive videos and short movies – social network campaigns. He is a founder member of the GIN-SOGI interfaith LGBT network.

NGO: Personal efforts in explaining to multiple people about the difference between being gay and the people of Sodom and Gomorra.


back top page


Neil Grungras
LEADER OF ORAM (Refugees's organization)



A refugee and immigration advocate with over 20 years of experience in the public and private sectors, Neil Grungras has worked extensively on behalf of vulnerable refugees and asylum seekers. Before founding ORAM, Mr. Grungras was director for Europe & the Middle East at a leading U.S.-based refugee and migration organization. He had previously directed the U.S. Department of State Overseas Processing Entity ("OPE") for Iranian refugees in Vienna, Austria. There, he managed the processing of thousands of refugees from case inception to arrival in the U.S. Mr. Grungras has served as a refugee law adviser to several NGOs, has lectured and taught extensively on the topic at leading law schools, and co-founded a law school clinic assisting refugees and asylum seekers.





Contact, click here.


back top page









Imam Ludovic-Mohamed Zahed


Founder and international coordinator of the CALEM Informal Confederation from 2010 to 2014; Director of the CALEM Expertises Cabinet since 2015.



Read more about L. zahed here